As autonomous vehicle (AV) technology advances, the question of who liability falls on – the vehicle owner or the OEM – in the event of crashes has largely been left unanswered with the implied exception of Volvo, and now, Mercedes-Benz.
Road & Track recently reported that the German OEM will hold itself responsible for any malfunction of its SAE Level 3 conditional automated driving feature, Drive Pilot.
"Once you engage Drive Pilot, you are no longer legally liable for the car's operation until it disengages," Road & Track wrote. "You can look away, watch a movie, or zone out. If the car crashes while Drive Pilot is operating, that's Mercedes' problem, not yours."
Mercedes didn't return a request by the publication deadline from Repairer Driven News to confirm whether or not the OEM will hold itself liable.
Mercedes does, however, state in a report on its website, "Behaviors that would inhibit the fallback-ready user's ability to take over driving in a timely manner, such as sleeping, are prohibited and, when detected, will cause the system to issue a series of escalating warnings. If those warnings are ignored DRIVE PILOT will automatically bring the vehicle to a controlled stop while turning on the hazard lamps. If the driver remains unresponsive, DRIVE PILOT will secure the vehicle from rolling away, seek aid by placing an emergency call to our response center, and prepares the vehicle for emergency assistance by unlocking the doors."
The Society of Automotive Engineers (SAE) International defines Level 3 automated driving as the person seated in the driver's seat not being in control of the vehicle when the automated driving feature is engaged. However, the "driver" should be ready to, at any given time, take over when a Level 3 system is engaged.
Before the feature is offered as an option to the driver, Drive Pilot evaluates system health, route clearance, and environmental conditions to determine feature availability, according to Mercedes. It is available as an option in the S-class models in Germany.
Chief Technology Officer Markus Schäfer said in a statement that Drive Pilot will be offered in the U.S. by the end of the year "if the legal and regulatory framework allows."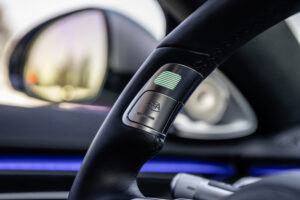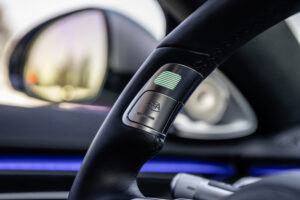 Drive Pilot Senior Development Manager Gregor Kugelmann told Road & Track that by the end of 2021, Mercedes was the first OEM to receive Level 3 international certification.
"We're aiming to get that for California and Nevada by the end of this year, and we're checking a lot of other states as well," he said.
Every vehicle with autonomous technology currently for sale in the U.S. has an SAE Level 2 system including General Motors' Super Cruise, Ford's BlueCruise, and Tesla's "misleadingly-named" Full Self-Driving, according to Kelley Blue Book. "They relieve some of the workload of driving under specific circumstances. But they require the driver's full attention. The companies take no legal responsibility from the driver for the car's actions," KBB wrote.
Mercedes touts the Level 3 AV system as "designed to operate the vehicle under certain conditions on fully access-controlled highways, such as Interstate Freeways. Under these conditions, the driver can engage DRIVE PILOT to operate the vehicle and afterward relax and focus on non-driving tasks provided by the vehicle's multimedia system. When it's time to leave the freeway, or if an unusual situation develops, such as approaching a crash scene or the occurrence of a malfunction, DRIVE PILOT will alert the user to resume driving, while maintaining vehicle control until the user is able to do so."
Drive Pilot uses lidar, a camera in the rear window, microphones, and a wetness sensor in the wheel well to evaluate its surroundings and weather conditions. In case of system failure, Mercedes installs redundant steering and braking systems and an on-board electrical system with Drive Pilot so that the vehicle "remains manoeuvrable even if one of these systems fails and enables safe handover to the driver."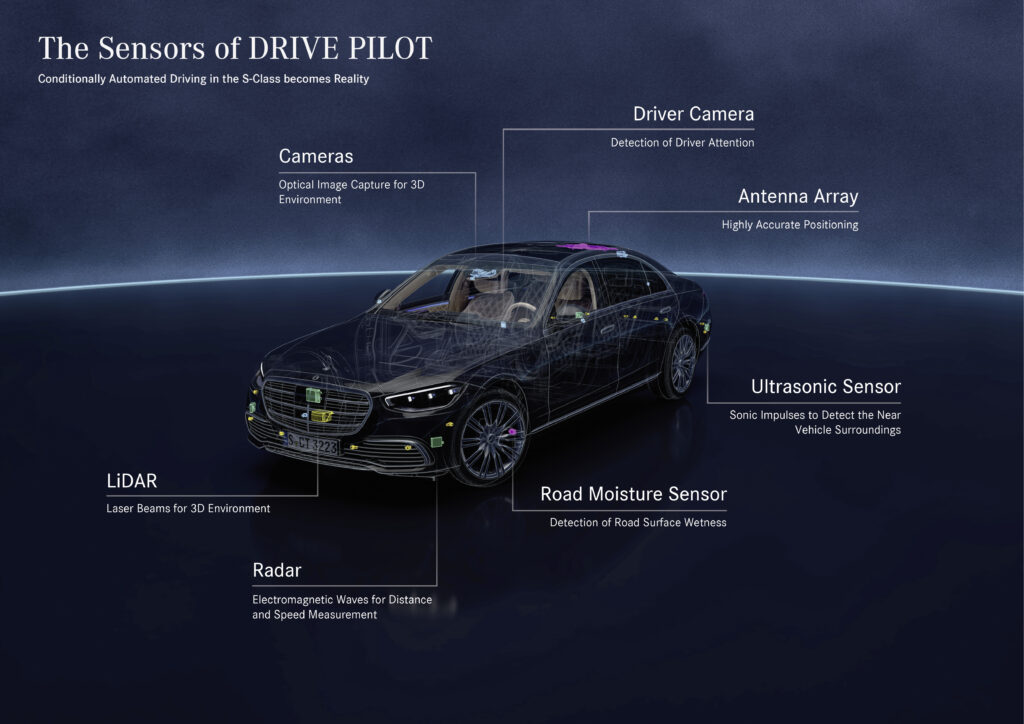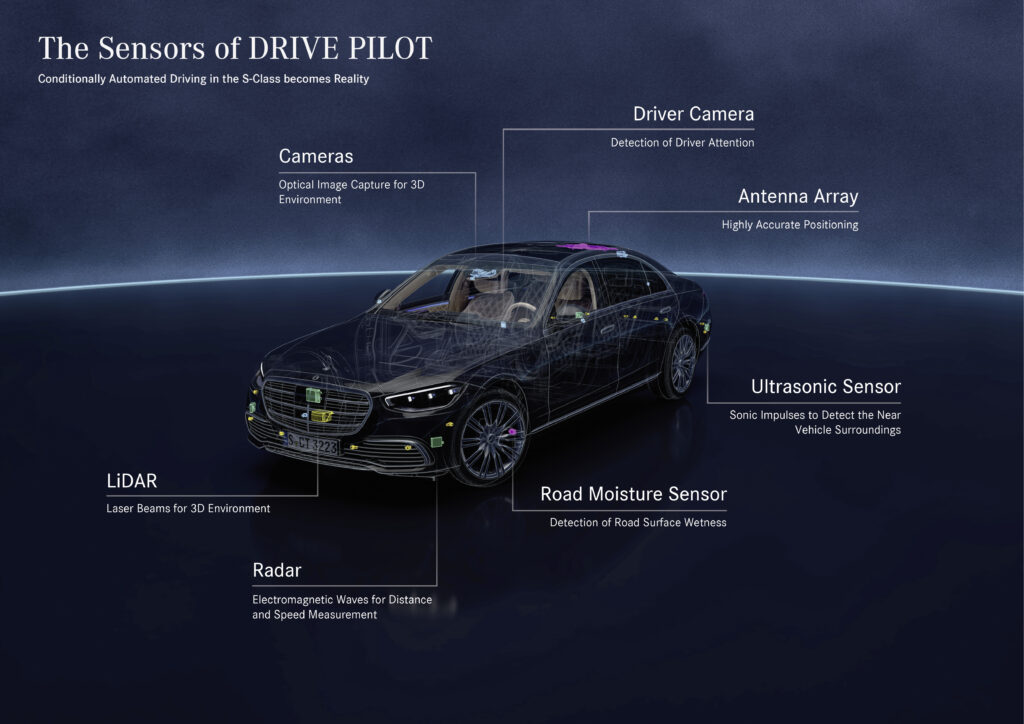 KBB questions whether Mercedes can, in fact, take full legal responsibility at the federal level in the U.S. because "federal laws control some liability questions for software makers, and a patchwork of state laws controls liability for traffic accidents."
"I would expect that, here in the United States, some other states may adopt the rules that will be applied by pioneer states like California and Nevada," Mercedes Vice President of Automated Driving, George Massing, told Road & Track. "And then, they'd have maybe two or three specific rules included in their region. But we will probably have to deal with each individual state because of the way you guys are organized as a country."
Featured image credit: Mercedes-Benz
When Drive Pilot is activated, the controls in the steering wheel glow turquoise. (Photo provided by Mercedes-Benz)
"The Sensors of DRIVE PILOT" (Provided by Mercedes-Benz)
© 2020 DRIVEN COMMUNICATIONS Inc. All Rights Reserved.
Article Categories:
टेक