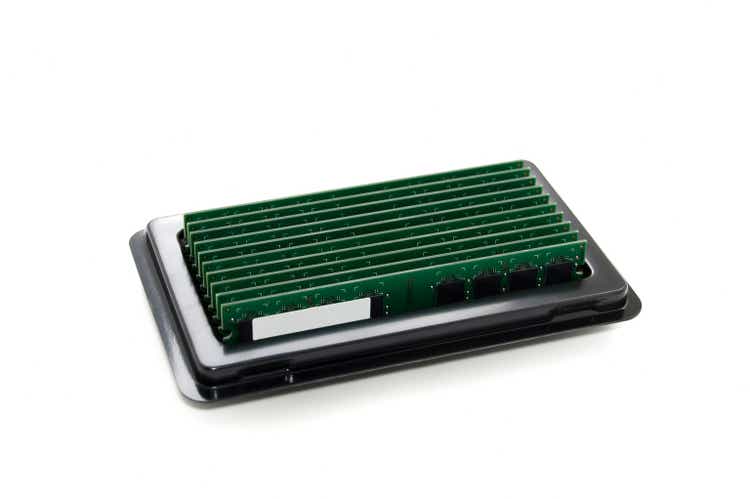 Sergus/iStock via Getty Images
Amkor Technology (NASDAQ:AMKR) is without question in the doldrums. The stock has done poorly for the last twelve months. Furthermore, there is reason to believe the stock is likely heading lower in the short term. So it's understandable if some decide to throw in the towel when it comes to AMKR. However, there is still an argument to be made to stick with AMKR, nonetheless. Why will be covered next.
It's not easy arguing in favor of long AMKR. The stock has been in the doldrums for a long time. The stock has managed a gain of 2.4% in the last 12 months, having gone mostly sideways during this time, but it took a major rally in recent weeks to get it done. The stock is nonetheless down 3.5% YTD. On the other hand, that's actually better than many other semiconductor stocks. For instance, the iShares PHLX Semiconductor ETF (SOXX) has lost 10.5% in 2022.

Source: finfiz.com
Still, the stock would be down even more if it had not rallied in recent weeks as shown in the chart above. The stock has gained about 20% in the last three weeks, helping it narrow YTD losses. More importantly, the chart suggests the trend remains bearish. The highs and the lows are both heading down.
Note that the stock is currently bumping up against the upper trendline, formed by connecting the recent highs. If the current trend holds, the stock is likely due for a pullback after the recent rally. It could possibly fall all the way back to the lower trendline, formed by connecting the recent lows. If this winds up being the case, then keeping your distance from AMKR could turn out to be a wise move indeed.
Some longs may want to reduce their exposure to AMKR even if the stock manages to break through the resistance imposed by the upper trendline. While many stocks have bounced in recent weeks, strong headwinds remain out there. The Federal Reserve is still determined to fight inflation by raising interest rates, which could have adverse implications for stocks. It could, for example, eventually force the economy into a recession.
There's also a war going on in Europe, which could also have all sorts of adverse consequences. At the minimum, both of these create lots of uncertainty for stocks, which makes it risky to bet on stocks. Some may see this as justification to lighten up on stocks, especially those that have not done well like AMKR.
The stock has gone pretty much flat in the last year or so and the charts are leaning bearish, but the case in favor of long AMKR is not without arguments. For one, AMKR is a relatively inexpensive stock to acquire in terms of multiples. Furthermore, AMKR is a provider of outsourced semiconductor packaging and test services. If semiconductor demand rises in the future as expected, AMKR should benefit from an expanding market. AMKR thus offers a way to play the expected growth in semiconductors at not too great a cost. The table below shows the multiples AMKR trades at.
AMKR
Market cap
$5.85B
Enterprise value
$6.18B
Revenue ("ttm")
$6,138.3M
EBITDA
$1,330.5M
Trailing P/E
9.13
Forward P/E
8.66
PEG ratio
0.10
P/S
0.95
P/B
1.99
EV/sales
1.01
Trailing EV/EBITDA
4.64
Forward EV/EBITDA
4.16
Source: Seeking Alpha
AMKR has an enterprise value of $6.18B, which is equal to 4.64 times EBITDA on a trailing basis and 4.16 times EBITDA on a forward basis, both much lower than the median in the sector. In addition, the balance sheet has gotten stronger with net debt standing at $59M, down from $322M a year ago. The stock now trades at just under two times book value.
AMKR is relatively inexpensive, especially for a stock that is on a record-setting pace in terms of sales and profit growth. In fact, revenue, gross profit, operating income and EPS all reached record highs in the most recent earnings report. For instance, Q4 FY2021 revenue increased by 25.8% YoY to $1,725M, a new all-time high.
EPS increased by 69.2% YoY to $0.88, another all-time high. Note that similar to what happened in Q4 FY2020, Q4 FY2021 benefited from a $20M income tax benefit, which added $0.08 to EPS. EBITDA was $398M, up from $288M a year ago. The table below shows the numbers for Q4 FY2021.
(GAAP)
Q4 FY2021
Q3 FY2021
Q4 FY2020
QoQ
YoY
Net sales
$1,725M
$1,681M
$1,371M
2.62%
25.82%
Gross margin
21.0%
19.3%
20.3%
170bps
70bps
Operating margin
14.6%
12.6%
11.6%
200bps
300bps
Operating income
$252M
$211M
$159M
19.43%
58.49%
Net income
$217M
$181M
$127M
19.89%
70.87%
EPS
$0.88
$0.74
$0.52
18.92%
69.23%
(Non-GAAP)
EBITDA
$398M
$358M
$288M
11.17%
38.19%
Source: AMKR Form 8-K
If the Q4 numbers are available, then so too are the numbers for all of FY2021. FY2021 revenue increased by 21.5% YoY to $6,138M and EPS increased by 87.1% YoY to $2.62, both record highs. All end markets grew by double digits on their way to new record highs. FY2021 was without question a year for the record books for AMKR.
(GAAP)
FY2021
FY2020
YoY
Net sales
$6,138M
$5,051M
21.52%
Gross margin
20.0%
17.8%
220bps
Operating margin
12.4%
9.1%
330bps
Operating income
$763M
$457M
66.96%
Net income
$643M
$338M
90.24%
EPS
$2.62
$1.40
87.14%
(Non-GAAP)
EBITDA
$1,331M
$960M
38.65%
Source: AMKR Form 10-K
Guidance calls for Q1 FY2022 revenue of $1,500-1,600M, an increase of 16.9% YoY at the midpoint. The forecast expects EPS of $0.45-0.65, an increase of 12.2% YoY at the midpoint. However, if AMKR surpasses the high end of guidance as it did before, revenue and EPS growth are likely to surpass 20.7% and 32.7% respectively. Note that the numbers in Q1 tend to be lower than in Q4 due to seasonality.
Q1 FY2022 (guidance)
Q1 FY2021
YoY
Revenue
$1,500-1,600M
$1,326M
13.12-20.66%
Gross margin
17.5-20.0%
20.0%
(125bps)
Net income
$115-165M
$120M
(4.17%)-37.50%
EPS
$0.45-0.65
$0.49
(8.16%)-32.65%
Guidance did not extend beyond Q1, but management did add some color as to the outlook for the rest of the year. AMKR believes it can outperform the semiconductor market in 2022. From the Q4 earnings call:
"The full year 2022 is shaping up as another growth year for Amkor. Our key growth drivers remain in place. 5G deployment, high-performance computing, IoT wearables and automotive electronics are all expected to drive strong demand for our services. With Amkor's differentiated technology portfolio, global manufacturing scale and broad customer base, we believe we can outperform the semiconductor market in 2022."
A transcript of the Q4 FY2021 earnings call can be found here.
The forecast comes in spite of all the supply constraints imposed on AMKR. There are shortages of wafers, substrates and components, which are likely to persist throughout the year. In addition, there are delays in getting certain types of equipment, which may affect the timelines for capacity expansion. Costs are going higher.
"In order to secure specific materials for our customers, we are exploring long-term arrangements, including investments with key suppliers to support capacity expansion. We expect continued tightness throughout 2022 until new capacity comes online. In addition to supply constraints, we are also experiencing cost increases, both in fixed and variable costs."
Still, AMKR is confident demand will remain robust, which is why it is investing in new facilities.
"Given the continued strong demand in the market, we are increasing our forecast for capital expenditures in 2022 to around $950 million. This includes spending related to our new facility in Vietnam, which is anticipated to be completed in 2023."
FY2022 capex spending is set at $950M, up from $780M in FY2021, in part to help pay for a new factory in Vietnam. AMKR would not be doing this if it wasn't confident in the future.
There are arguments to be made in favor of and against AMKR. If someone is, for instance, looking for a stock with strong momentum, then AMKR does not fit the bill. The stock has struggled for the last twelve months. While the stock has bounced in recent weeks, the charts suggest the stock is up against resistance and likely heading down. The trend is for the stock to go lower and that has not changed. The stock is down 3.5% YTD, but it took a major rally to avoid worse from happening.
On the other hand, the stock's sluggish performance stands in contrast to that of the company itself. AMKR is on a record-setting pace in terms of the top and the bottom line, even though it is limited by supply chain constraints. Numerous records were set in the most recent quarterly and annual report. And if the outlook for FY2022 is correct, then these records are not likely to stay on top for long as new ones are on the way.
I am bullish AMKR. A previous article cautioned that the stock was likely to underperform, being weighed down by a number of headwinds, Fed tightening in particular. As it turned out, that's pretty much what has happened. The stock has been volatile. In addition, none of the headwinds mentioned previously have gone away. The Fed continues to tighten. Global tensions remain high.
Stocks like AMKR have to contend with a ton of uncertainty, which means the risk that something goes wrong is elevated. The charts suggest the stock is heading down. It would not be unusual for someone to decide to take a pass on AMKR with all this in mind. If someone intends to convince someone that getting in on AMKR is warranted, then there are substantial hurdles standing in the way, making such a proposition somewhat of a tall order.
With that said, it's worth sticking with long AMKR. It's true the stock's short-term prospects lean towards the bearish side. However, the current direction of the stock cannot continue indefinitely. Multiples are already low for a company growing by double digits and they will only get lower if the stock goes down and earnings keep going up.
If this continues, the stock will get to the point that it gets scooped up, if only because multiples have gotten so low they trump whatever risk perception is out there. For instance, there are those who feel a stock trading below book value is undervalued. If the stock keeps dropping, AMKR will get to that point with a price-to-book under 2.
Something has to give. The stock can continue declining, pushing multiples lower and lower. Alternatively, the stock can reverse course to compensate for the downward pressure being exerted on multiples. It may take time, but the latter outcome is the more likely one. AMKR is admittedly a risky bet, but it's a bet worth taking.
This article was written by
Disclosure: I/we have a beneficial long position in the shares of AMKR either through stock ownership, options, or other derivatives. I wrote this article myself, and it expresses my own opinions. I am not receiving compensation for it (other than from Seeking Alpha). I have no business relationship with any company whose stock is mentioned in this article.
Article Categories:
टेक